A 19 year old lady named Audrey Cheyenne-Smiley Moon, has married a 61 year old dispatcher named kevin. Kevin is a father to two kids from his previous marriage which lasted 19 years.
Audrey who is a military officer met her husband on a dating site known as Badoo in January 2020 and fell in love with him despite his age. It also happens that Kevin is older than both Audrey's parents.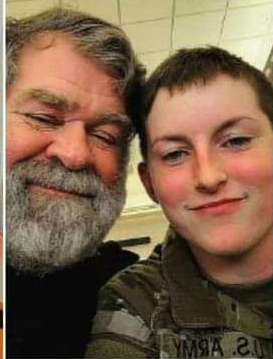 They finally met physically in July and it seems that the meeting made their love stronger. The coupled then decided it was time to tell her parents about the relationship and to seek their approval but Audrey's parents were not so happy about the age difference.
It took a while but Audrey's mother and father (38 and 43 years old respectively) finally approved their relationship. As for Kevin's family, his two children aged 13 and 16 also gave their approval and the couple got married on the 1st of August, 2021.