Football has once again found its voice, as a total of 7,773 football fans took to the Wembley stadium for the Carabao Cup final fixture between Manchester City and Tottenham Hotspurs.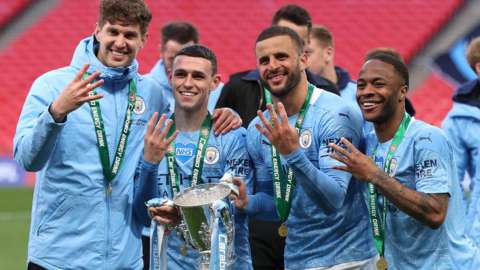 Each team had a total of 2000 fans on their side in a socially distanced setting, and while this is a very small number for a fixture between teams of this size, it made a huge impact on the match, as the noises from the fans gave the match a vibe that has been long lost in the world of professional football. 
While City fans were the ones with the bragging rights as they won the match 1-0, Spurs fans also played their part to make the match a lively one, as football welcomed fans back into a stadium for the first time since March 2020.
According to BBC Radio 5 Live presenter Steve Crossman, "It's great to see the fans back – it feels like football again. You see the celebrations, players lifting the trophy and what it means to be a footballer and a fan. It's great to all be back together again."
Reports say Wembley is set to welcome more fans for the FA Cup final on the 15th of may, and it is expected that 21,000 fans would be present for the match as part of the UK government's 'Events Research Programme (ERP)', which examines how to get spectators back into venues in financially viable numbers.
The Football Association also said it hopes that Wembley would be at its full 90,000 capacity for the Euro 2020 final, but it admits that half of that number 45,000, might be a more realistic target.
On their part, the Premier League plans to start hosting up to 10,000 supporters in stadiums from Monday, 17 May if the government goes ahead with it's projected schedule.
Reports also say that the round of fixtures would be rescheduled to 18th-20th of may, so as to ensure that all 20 clubs in the league play a home game with fans present. 
Don't miss out! Know when next we publish, click on a button below;
You can leave us your email below and we will take care of the rest, we don't send spam.