Arsenal will be facing Manchester City on Tuesday without their striker/captain Pierre-Emerick Aubameyang, for the Carabao Cup quarter-final due to calf injury.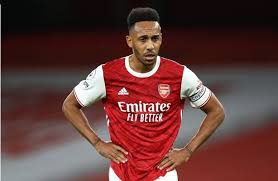 The Gabon international was left out of Arsenal's Saturday's Premier League clash with Everton, that saw the gunners suffer their 5th defeat in the league, as they lost 2-1. 
According to Arteta, "Auba is not fit for [Tuesday], he will have another scan in the next few days and we will see how quickly we can get him back in the team."
The Gunners have now lost five of their last seven Premier League fixtures, in what is their worst premier league season start in a very long time. They are currently 15th on the league table with 14 points.
However, despite their struggles in the Premier League, Arsenal has maintained an excellent record in the EFL Cup this season, and have recorded victories over clubs like Leicester and Liverpool on their way to the round of 8.
The Gunners won the FA Cup with Arteta last season, and the Spaniard believes he can defeat City, and set the Gunners up for another EFL Cup success this term.
According to Arteta, "We had two difficult opponents, with Leicester and Liverpool. We managed to beat them both and now we are playing at home and we are one step closer to Wembley."
Don't miss out! Know when next we publish;
You can leave us your email below and we will take care of the rest, we don't send spam.