Arsenal's new Goalkeeper Mat Ryan(who they loaned to serve as competition for Bernd Leno), might have made a bad first impression with the Gunners, as he conceded a goal 74 seconds into his debut for Arsenal. as Aston Villa completed their first top-flight double over the Gunners for 28 years.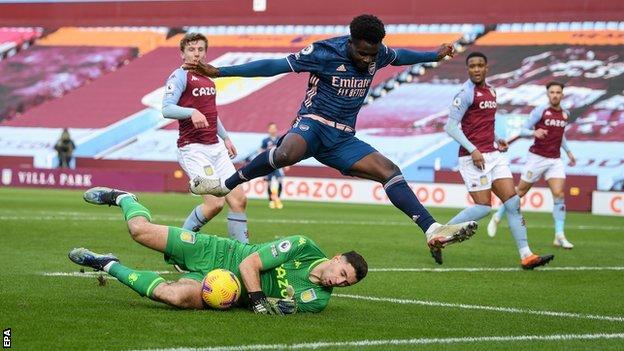 Mat Ryan who has been a Gunner since he was a boy, was signed on loan by the North London club in the January transfer window. He was started in place of Bernd Leno, who is currently serving his one match ban. 
While Ryan might have conceded an early goal, he however pulled off some fine saves in the match, an example being his successful save against Traore's attempt at goal(his first since he returned to the Aston Villa squad).
Meanwhile, Ex-Arsenal number '2' keeper Emiliano Martinez, put up another impressive performance against his former teammates, as he initiated the move which eventually led to Aston Villa's goal and Arsenal's loss.
Martinez further punished his ex-club by keeping out all their attempts at goal with excellent saves, especially against Granit Xhaka's free kick.
Following their win, Aston Villa have moved up to eighth position on the Premier League table, while a disappointing Arsenal remain 10th on the table, after their second consecutive loss.
Don't miss out! Know when next we publish;
You can leave us your email below and we will take care of the rest, we don't send spam.