Former Arsenal manager spot the two kids to succeed Cristiano Ronaldo and his long term rival Lionel Messi.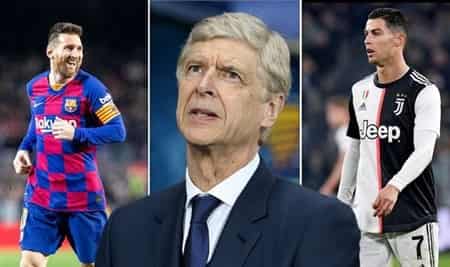 Wenger left Arsenal some time ago and has since been linked to several jobs including a return to England but no one ended up getting the services of the France manager.
Cristiano Ronaldo and Messi has been on the scene for more than a decade and has been considered as the longest rivalry in the world of football, the two has won a combined eleven (11) Ballon d'Ors and has been the key to the success of their respective clubs.
But former Arsenal manager, Arsene Wenger believes they are going out of the scene soon and he already have some kids that will replace the two superstars, the France manager named his countryman

Kylian Mbappe

and Brazilian international,

Neymar Jr

as successors to Cristiano Ronaldo and Lionel Messi.

He told talkSPORT: "Lionel Messi, we have never seen players like that who can absolutely be creative in any tight situation.
"These players, Messi and Ronaldo are now getting to an end.
"It is now about the next generation, and the next generation may be French.
"At the moment, the leader could be Mbappe, and Of course, Neymar, we know.
"But England, I believe, has a good chance. Now they are doing very well at the youth level.

SPONSORED POST: Fabregas Reveals how he made kanu Nwankwo Angry At Arsenal

"They have done well with Gareth Southgate at the World Cup. I was hoping at the European Championship they would be one of the contenders."
(adsbygoogle = window.adsbygoogle || []).push({});
(function(E,n,G,A,g,Y,a){E['EngageyaObject']=g;E[g]=E[g]||function(){ (E[g].q=E[g].q||[]).push(arguments)},E[g].l=1*new Date();Y=n.createElement(G), a=n.getElementsByTagName(G)[0];Y.async=1;Y.src=A;a.parentNode.insertBefore(Y,a)})(window,document,'script','//widget.engageya.com/engageya_loader.js','__engWidget');
__engWidget('createWidget',{wwei:'ENGAGEYA_WIDGET_131323',pubid:194379,webid:205993,wid:131323});