A bank cleaner has quit her job after working there for 35 years in a unique, beautiful and commendable manner. Julie finally decided to leave the job after working under a terrible boss who used to look down on her because she was a cleaner.
Instead of flipping out on the boss before quitting like any other person would have on the last day, Julie chose to follow the high road and left a simple note.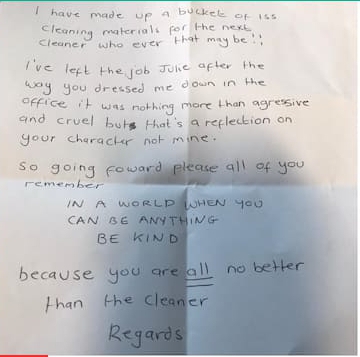 The letter was written from a very sincere part of her, she simply pointed out the bad things her boss did and advised her to do better. Her son who shared the story on his Twitter account congratulated her on her retirement and praised her handling the case the way she did and having the last laugh.
He wrote "And this is why I love my mum. She's been cleaning banks for 35 years and today walked out with this lovely note left for that awful manager. Happy retirement Mum – always have the last laugh eh!"
Don't miss out! Know when next we publish, click on the button below;
You can also subscribe to our newsletter below, we never spam.
Article content continues below;
More Articles