best power banks iPhone
iPhone users all have one thing in common, they're always low on battery. Unfortunately, Apple's battery pack simply doesn't pack that much juice which forces users to find the best power banks for iPhones.
For many of us, power banks are already daily companions, and if it isn't already, I'm sure it would soon be.
In this article, I'll be listing some of the best power banks brands available for purchase that should make life easy for my fellow iPhone users, I also added links for some of the best on our shop so you won't keep on searching.
ORAIMO
If you want power banks that actually bank power, then an Oraimo product is your safest bet. form slim and compact to big and powerful, Oraimo has an impressive array of power bank models that should keep your apple smartphone ON.
As if that's not enough of a deal maker, Oraimo power banks also have a high-speed charging technology that allows them to charge iPhones faster than normal, Also with the multi-safe system, you can charge and use your device at the same time without your device getting damaged or charging like a snail.
P.S: When you purchase an Oraimo power bank from a certified vendor, you get a 1-year warranty.
Buy Oraimo power bank 27000mAh on SonShopa
ANKER
Internationally tested and trusted, Anker power banks are among the most affordable and durable power banks in Nigeria.
The brand only comes second to Oraimo because it's not as popular in Nigeria, but it's one of the best charging brands in the United States.
best power banks iPhone
Anker power banks are very similar to Oraimo products and can in fact be used as substitutes. they also sometimes come with a pouch that makes them easy to move about.
For iPhones, Anker power banks are perfect and a Smart charging system keeps your battery safe from damage. 
Buy portable power banks in our shop
NEW AGE.
New age is another popular phone accessories brand in Nigeria, and depending on who you ask, New Age power banks are among the best iPhone power banks available in Nigeria.
These power banks are very easy to get like 4 out of 5 accessory stores would have a new-age product on display in Nigeria.
Best power banks iPhone
They usually come with dual-output ports that allow you to charge 2 devices at a time and with supported cables they support fast charging on iPhones.
Article content continues below;
More Articles
DANA.
Even the name sounds classic.
Dana power banks are best known for their LED display unit which tells its user how much power is left to charge devices. this is something very few Power bank brands can boast of.
However, it's not just classy names and flashy designs, DANA banks have an impressive online review which is not an easy feat since most of their products are very affordable.
Dana power banks come with either lithium-polymer or lithium-ion batteries, however, models with Lithium polymer batteries are the best iPhone power banks, as they are more durable.
Buy Dana power bank 10400mAh on SonShopa
HAVIT.
The last name on the top 5 list is by no means a small brand itself. Havit is a known name in the world of electronics, and their power banks put up impressive competition against the more popular brands.
Havit power banks are of 2 designs, the Universal USB and Fast Charging models.
best power banks for iPhone
However, for iPhones and other Apple devices, we would only be concerning ourselves with the Fast Charging models, as they help users achieve a full charge within a short time. This is a very key feature because nobody likes to wait for their phones to do the traditional slow charge which takes a long time.
Click here for the MTN data cheats 2022
Still not satisfied? below are other power banks for iPhone users.
6. RAVPOWER
7. AIHONTAI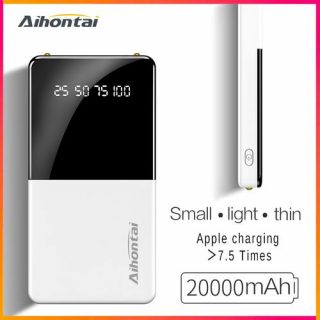 Buy Aihontai power bank 27000mAh on SonShopa
8. SAMSUNG
9. ROMOSS
10. MOVFA
best power banks iPhone
Don't miss out! Know when next we publish, click on the button below;
You can also subscribe to our newsletter below, we never spam.