A local wedding, Kigali, Rwanda took a dramatic turn when the bride suddenly went on rampage and attacked on the groom in front of the guests.
Footage from the scene shows the couple, dressed in their wedding finery, exiting a grand building and making their way to the church.
Read also:
Woman Takes Unexpected Action After Being Tricked Into Pregnancy By Boyfriend
The groom wore a black and purple outfit, while the bride donned a white gown and carried a bouquet.
However, as they walked down the aisle, the bride suddenly let go of the groom's hand, slapped him on the back of the head and threw her bouquet away, before attempting to attack him again.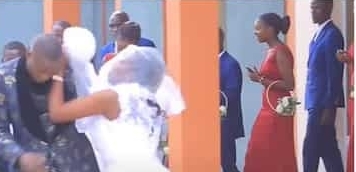 Article content continues below;
More Articles
The bridal party stepped in to intervene, with the best man and the bridesmaids seen trying to restrain the bride. The incident left guests in shock, with some bridesmaids seen crying.
After the outburst, she was heard speaking in Kinyarwanda on the phone to another woman.
watch video below:
We are committed to helping you with your research and making sure you are updated with the latest information, so leave us your email below to be the first to know when shit happens.
Subscribe to the latest information on Son Media!