Emotional Cristiano Ronaldo In tears when shown his Late drunkard Dad video In an interview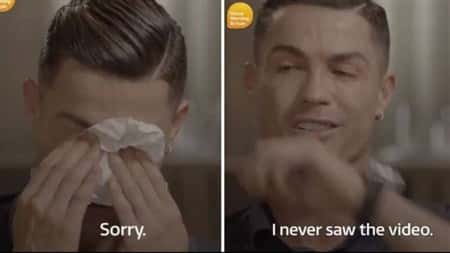 Ronaldo was moved to tears in a recent interview with Piers Morgan, the Portuguese star was shown a video of his father appreciating his efforts in football by then.



But this instead collapsed the Five (5) times Ballon d'Or winner emotionally as he cried in the interview which was organised by famous presenter Piers Morgan.


Upon being shown the footage, which sees his father Dinnis speaking about how proud he was of his son, He cried and said. 'I never saw the video,'. 'I never saw that video. Unbelievable.' 'To hear your father speak about how proud he was of you must mean a lot to you,' Piers said. Ronaldo replied: 'Yes, a lot. I think the interview would be funny, but I didn't expect to cry.





The Juventus striker continues, 'But I never saw these images. I don't know where you … I have to have these images to show my family. 'But I really don't know my father 100%. He was a drunk person. I never spoke with him, like a normal conversation. It was hard.' Ronaldo then explained that he has a great sadness over the fact his dad never fully appreciated him being number one. 'He never saw how great you became,' Piers commented.


'Never. Never,' Ronaldo admitted. 
Cristiano Ronaldo was completely in tears, after the mention of his dad.

The documentary is set to be out sooner, with Piers Morgan teasing: 'Ronaldo is a football genius and a global superstar. 'He's also a compelling character and this is the most revealing interview he has ever given. Prepare to laugh and cry and to be shocked and inspired.'
Follow Cristiano Ronaldo News, Stats, Records, Results and More: FOLLOW
Share to other CR7 Lovers and haters just to annoy them though…
If you're a fan: follow us on IG: shootoutnowcom