Barcelona has been on rampage since Xavi took over the teams managerial position, but nobody really took them seriously till the Catalans subjected their arch rivals and La Liga leader Real Madrid to a humiliating defeat at the El Clasico.
The spanish club seemed to have lost its life after Messi left the club, but Xavi's arrival and Aubameyang's move to Camp Nou seems to have brought the Catalans back to life.
After Barca gave Madrid a rude awakening with a flawless 4-0 defeat, Gerald Pique made a twitter post saying "We are back."
With Barcelona back online, the world's favorite football fixture El Clasico -a match between Barcelona and Real Madrid- seems to have began a gradual return to its intense and highly competitive ways.
Speaking on Barcelona's new form, Xavi says "we changed our negative dynamic of losing the last few Clasicos, we've proved we can compete and play against the best sides in the world. I don't know if we can win the title. We can't rule out anything. Maybe we're a bit late but this is a very big win for us."
"I'm very proud of my team. This is El Clasico and can only help us going forward. There's still a lot to do."
HOW DOES BARCELONA'S WIN HELP LA LIGA?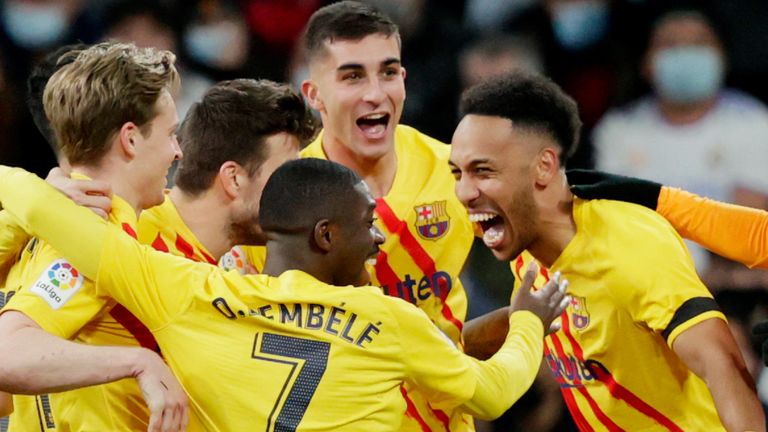 Four months after taking over, Xavi has successfully revamped the team team and given the a better direction than they had under Ronald Koeman's management.
"When Messi and Cristiano left people were saying the Clasico won't be the same, but Spanish clubs have been really good at producing young players," says ex Argentina defender Pablo Zabaleta.
In recent years, La Liga who has been forced to find other marketing schemes for their prized product 'The El Clasico'.
Fortunately the top flight Spanish league can breathe a little easier now, as Barcelona's thorough trashing of Real Madrid should retain some of the fixtures faded glory.
Don't miss out! Know when next we publish, click on the button below;
You can also subscribe to our newsletter below, we never spam.