Dortmund's Erling Haaland believes he still needs a lot of work to reach Ronaldo and Messi's level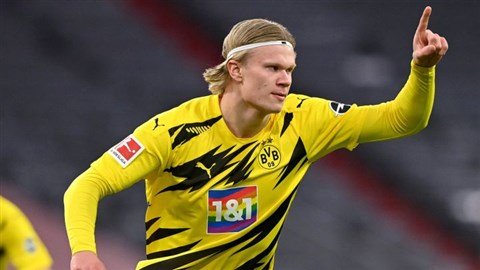 The 20 years old Norwegian dismisses the comparison between him and rivals Cristiano Ronaldo and Lionel Messi, the youngster sends a message to duo Ronaldo and Messi.
Haaland (20) has already announced his abilities, the Borussia Dortmund forward has already netted 33 goals in 31 games this season.
He already has 49 goals for the German club in just 49 games, averaging a goal every match since joining the club side in January.
At 20, he already proved to be a prolific and proficient striker, the Norwegian like Kylian Mbappe has set the mark right from the start of his career.
With 10 goals in the Champions League this term and 20 in just 14 total games, the former Molde and Salzburg striker is one of the names to mention as the top performances of today.
But despite the performances and consistency provided by the forward, he believes he still needs more to be compared to both Cristiano Ronaldo and Messi.
The Dortmund talisman insisted Cristiano Ronaldo and Messi are still the best.
Article content continues below;
More Articles
Haaland Reject Claims about Ronaldo and Messi
Speaking to Dagbladet the Nowegian confessed:
"I think only of myself, to improve my game every day.
"I don't need to talk about Messi and Ronaldo, probably the best players in history.
I still need a lot to reach them".
Haaland has been a major target in the market with Manchester City, Barcelona, Manchester United, Real Madrid, and Chelsea all targeting the 20-year-old.
Though he has netted 33 goals in 31 games this season, his team Borussia Dortmund are still 18 points behind leaders Bayern Munich who are playing with high tempo.
Dortmund not favorite for the Champions League
Dortmund secured a place in the Champions League Quarter finals thanks to Erling Haaland's 4 goals in the RO16 but the club is far from favorite to win the title with both Bayern, Paris Saint German and Manchester City still fighting in the competition.
Don't miss out! Know when next we publish, click on the button below;
You can also subscribe to our newsletter below, we never spam.