Asides the common features we have that makes us human, there are also a few bad habits that we all exhibit.
We do them without even being aware of it, we choose to see it as part of our normal life experience not knowing they actually affect us, our self-esteem especially.
Curious to know them? Keep reading.
Article content continues below;
More Articles
FOUR BAD HABITS WE'RE GUILTY OF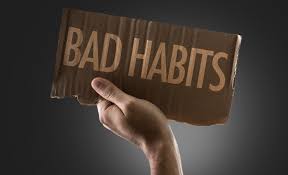 Negative Self Talk
Ever made a mistake and the next thing you start to say to yourself is "I was so stupid, can't believe I did that. How could I be so foolish?" or you are up by 3am thinking about a mistake you made 4 years ago and the embarrassment you felt them comes back again and then you say "how could I have been so stupid?" This is negative self talk that reduces your self esteem and limits you. It's done unconsciously but truth be told, we do it.
Also Read: https://www.shootoutnow.com/the-power-of-negative-thinking/
Being With The Wrong Set Of People
We've all been with the wrong people for the wrong reasons, be it to sort of boost our self-esteem, to feel cool or part of an elite society, letting people walk all over us so we can achieve a certain social status.
Overthinking
This is another bad habit that we most times have no control over. We create almost a hundred scenarios in our head. Maybe a friend didn't reply a text message or your boss asked to see you or you have a presentation. So your mind creates problems in advance, this bad habit makes you overly bothered over a not so serious issue and even when its serious it increases your anxiety.
Leaving Things To The Last Minute
A lot of people, in a bid to justify your bad habit, say things like "I feel more creative when I start a task a few hours to the deadline", making it look like doing so is actually a good thing. Honestly, you could just be lazy.
These are bad habits that are in one way or the other dragging you back and to get rid of them you need to be intentional about it.
First acknowledge the bad habit and then whenever you catch doing one or all, retrace your steps. You'll be glad you did.
Don't miss out! Know when next we publish, click on the button below;
You can also subscribe to our newsletter below, we never spam.