Fulham has won a shocking and impressive Premier League victory over Leicester City tonight as they defeat Leicester 2-1.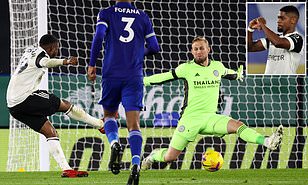 This surprising victory that has lifted Fulham out of the clutches of relegation, started to take shape after RB Leipzig loanee Ademola Lookman, sent the ball past Leicester's keeper in the 30th minute for Fulham's 1st goal.
Fulham's Ivan Cavaleiro then decided to double their lead in the 38th minute, as he confidently and Successfully converted a penalty kick, putting Fulham 2 goals ahead of Leicester.
However, Leicester wasn't dead in the game, and they made 2 attempts within seconds to score an equalizer after Fulham's first goal, but unfortunately both attempts struck the woodwork and stayed out.
They eventually scored a late 86th minute goal(which ended being damage control as they eventually lost), when Barnes connected with Jamie Vardy's assisted pass and sent it into Fulham's net.
Fulham's second victory of the season sends them up 2 spots on the league hierarchy from 19 to 17, while the Defeated Leicester retains their 4th position under Tottenham.
Don't miss out! Know when next we publish;


JOIN US ON:
You can leave us your email below and we will take care of the rest, we don't send spam.