Manchester United manager, Ole Gunnar mocks player Bruno Fernandez after win over Copenhagen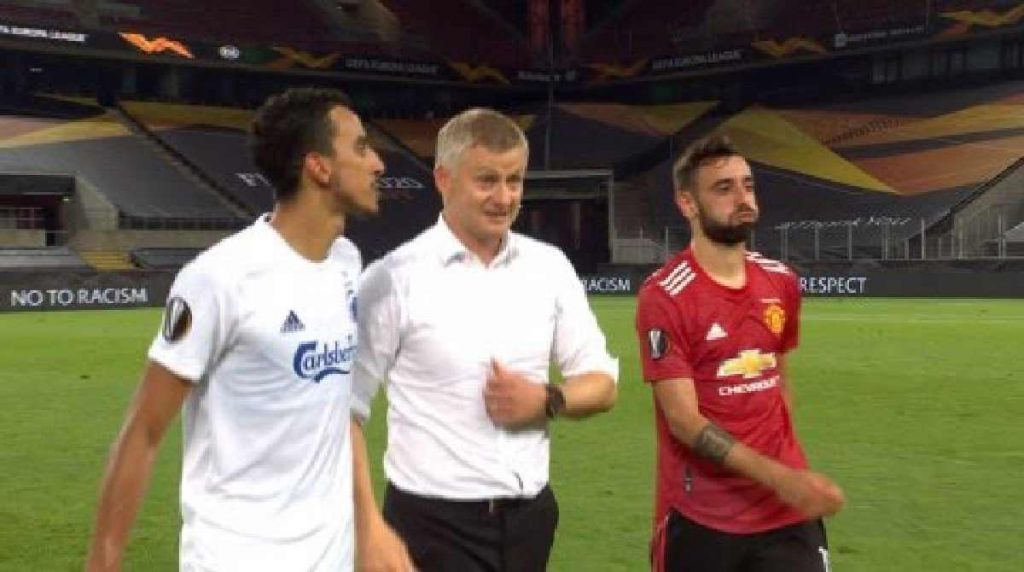 Manchester United escaped doom day with an extra time Penalty from their in-form midfielder, Bruno Fernandez as Ole Gunnar mocks Bruno Fernandez
The reds were just some few seconds from facing a hot extra 30.
Before Martial was brought down in the 18 yard box and hand United a record breaking 21st penalty of the season.
Manchester United created a record for scoring the most penalties in the premier League last month.
And are now the only team, in the European top five (5) leagues to have scored 17 penalties in a season.
Bruno Fernandez leading the way by scoring all the seven he has taken for the club since his arrival at Manchester United in January.
United Penalty Raft
Speaking about how Martial always go down in the 18 yard box.
Ole Gunnar said the Frenchman is so sharp and hard to stop.
The Norwegian Told beIN,
"He was sharp, Anthony's developed throughout the season and today he was involved in the pen, I think," Solskjaer said.
He's impossible to stop at times when he gets the ball to his feet and drives at people. He can go either way.
The only thing now is to put the ball in the net again but delighted with performance.
"We do play some attacking football, we do get the ball into the box quite often, and we play the ball into their feet.
We're not a team that really swing crosses in," Solskjaer added to beIN Sports. "We've got technical players: Mason, Juan, Anthony, Bruno, Marcus.
They're quick and I'm happy I'm not a defender against them.
I'd give penalties against them myself."
As the Reds Manager has it, Manchester United is a tough force to stop as the forwards found it so easy to get into the box.
This is always going to be a threat to the opposing defence and no wonder they been awarded 21 penalties.
United in the EUROPA SF
Manchester United win yesterday means they are through to the Semi finals since the competition turns into a one leg format.
The win for the Norwegian manager means he still have a chance to bring a trophy to the theatre of dreams.
And even his opposing captain appreciated the former United forward for his great work at Manchester United.
The Copenhagen Captain, Zeca, appreciated Manchester United manager for the work he has done at Manchester United.
But the former red's forward.
Use the opportunity to mock his in-form new arrival, Bruno Fernandez.
Ole Gunnar mocks Bruno Fernandez.
Ole Gunnar throw ditch at Fernandez for giving away the ball, to Zeca for many times.
Also the manager admits he wanted to take the former Sporting man out of the game for been angry.
Here is the conversation between Manchester United manager and Copenhagen Captain Zeca where Ole Gunnar mocks Bruno Fernandez .
Zeca: 'Hey, thank you very much for everything you've done in Manchester.'
Solskjaer: 'We're trying to get it back. He's helping [points to Fernandes].
This boy is helping.'
Solskjaer: 'He's a little bit angry… I wanted to take him off.'
Zeca: 'I was a little bit angry you didn't take him off before, but ok.'
Solskjaer: 'He was giving you the ball all the time.'
Zeca: 'Even though Sporting is my team, but yeah.'
Solskjaer: 'Keep going.'
Zeca: 'You're doing a good job.'
Solskjaer: 'You've got his shirt? Well done, all the best.'
Zeca: 'All the best, take care.'
Solskjaer: 'Look after Stale [Solbakken].'
United will face either Wolves or Sevilla in the Semi finals and Ole Gunnar insist he has no problem with either sides.
We are starting a giveaway on Instagram;
There will be up to 100k cash prizes and a chance for you to get your personalized page on our website.
Here is the blueprint.
Follow @shootoutnowcom and @sonmarinecorps.
Become a member of the sonmarines.
Create a post on Instagram with a screenshot photo of your sonmarines dashboard and tag @shootoutnowcom & @sonmarinecorps.
Use hashtags #shootoutnow #sonmarines #sonmediagiveaway.
Tag 5 of your friends that you can protect by all costs.
SIGN UP FOR MORE MANCHESTER UNITED NEWS