Barcelona were thrashed out of the Champions League by a Humiliating 8-2 defeat, hear what Messi have to Say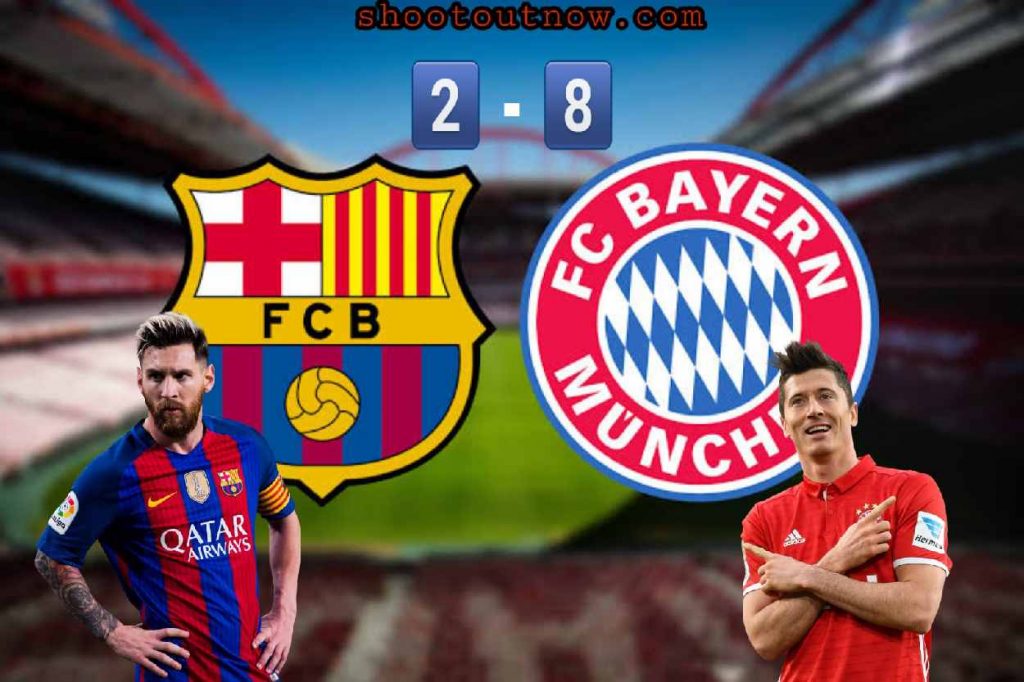 Hear what Messi have to say after Bayern Munich 8-2 Humiliation, in a match which was seen as a contest between two best players in the world.
Barcelona won't believe their eyes as Bayern got away with 8 goals to a disappointing 2.
Lionel Messi and co was frustrated again
for a third time in three years as Bayern Munich show no mercy to the Struggling Catalans.
The past two (2) Champions League horrors
were no more an issue to discuss as Barcelona received a fresh nightmare.
Barcelona fans were happy with the one leg format due to their last two encounter with the second leg.
The Blaugrana were thrashed out of the Champions League on two (2) occasions
after winning with three (3) goals margin at first legs.
Roma Horror
It first started when they beat AS Roma 4-1 in the first leg.
But a night of horror at thier home, made it difficult for the fans to breath as Roma performed what was felt as the miracle of the decade.
Thrashing an in form Barcelona team which got Lionel Messi with 3 goals to none
at their doorstep to advance with an away goal after a 4-4 aggregate.
Things got messier for the Catalans a year later when they face Liverpool.
The Quick Corner
The First leg bully guys beat the Merseyside club, with three (3) goals to none.
Just to receive a shock when they visit Anfield,
Liverpool turn things around and won the match with 4 goals to none
thanks to the quick corner from Alexander Arnold and Divock Origi combination.
This year's one leg format brought out much joy from the Barcelona fanbase.
The fans were hoping to see a similar first leg display and just maybe if they would see the first leg magic this time, it won't be up for nothing.
Barcelona beaten 8-2 by Bayern Munich
But things turn up worst for the La Liga runners up,
they received the most shocking nightmare and I bet they won't want to be reminded of this year.
In the end the whole 2020 won't have any special thing to say to the Blaugrana fans
and to make it worst, it was against Robert Lewandowski.
A man who turns up to be the most prolific player in the disastrous year.
Lewandowski scored 34 goals to win the German Budesliga golden boot.
And he was close to winning an European shoe before Ciro Immobile close in and overtook him to the award.
But despite that.
Lewandowski Cheated
The Poland international has an amazing year and was the favourite for the Ballon d'Or
had it been the French trouble makers hasn't cancelled the award.
It looks like after all that the polish have tried, in the end it doesn't even matter,
as the award governing body whom themselves will be feeling bad for canceling the award decided to skip past a disastrous year.
Hear What Messi Have To Say After Bayern Munich 8-2
Lionel Messi was unable to make an impact in a match which was completely out of their hands.
The Six (6) times Ballon d'Or winner was hoping to make a contest against Bayern's Lewandowski, as the two has been pictured as the best for this year, but things got worst for the Argentine playmaker.
He reported quickly after the match that it was a tough and rough day for him and the whole Barcelona team.
Report are now buzzing around that the Argentine skipper might be looking for a move away from the club but there is no real source and it remains an unconfirmed rumor.
The Barcelona – Bayern Match is going to be in the history book for a long time even though some fans might want it to be a nightmare rather than a reality.
Let's hear what you think in the comment below☺️
If you're a Barcelona fan, then you must have a big heart to make it through to the end of this article, but don't worry, things will get better.😊
But sadly I can bet anything in the world that you're just a happy lad that is happy with the disappointing lose.
Of course, that did not bother me much, but if you are really happy, why not share to all those who were reminding you of 6 Ballon d'Or (s)😅
Share and Comment🍹
There will be up to 100k cash prizes and a chance for you to get your personalized page on our website.
Here is the blueprint;
Follow @shootoutnowcom and @sonmarinecorps.
Become a member of the sonmarines.
Create a post on Instagram with a screenshot photo of your sonmarines dashboard and tag @shootoutnowcom & @sonmarinecorps.
Use hashtags #shootoutnow #sonmarines #sonmediagiveaway.
Tag 5 of your friends that you can protect by all costs.
Use this link to find more information about the giveaway.
To get started Create an account HERE
More post related to: Hear What Messi Have To Say After Bayern Munich 8-2 below.