England tried to stand or rather 'kneel' against racism at the national league fixture against Hungary, but they were met with massive boos and jeering.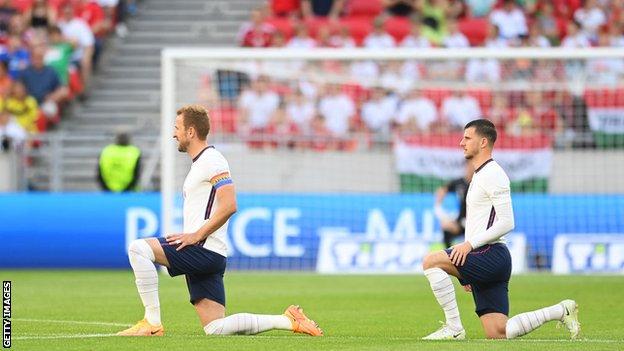 Despite a large number of the spectators at Budapest being children, the Englishmen were still resoundly jeered, and had to cut the kneeling short.
Uefa had previously ordered Hungary to play three games indoors due to offensive behaviour by their fans against England at Euro 2020 where fans threw a flare and other objects on the pitch.
However, it would seem the Hungarians are refusing to change their ways despite the punishment.
According to England manager Gareth Southgate, he doesn't know "why people would choose to boo the gesture,"
"The first thing, that [taking the knee] is why we do it, to try to educate people around the world. The young people can't know why they are doing it, so they are being influenced by older adults.
"The Uefa decision is for other people to decide. We have made our stand as a team, everyone knows what we believe in and stand for. It is a night where I need to focus on the football."
England's defender Conor Coady added that "It is massively disappointing. It's important people understand why we are doing it. It's not something we want to hear. We want to keep pushing the message."
Channel 4 has reached out to UEFA for a statement on the issue, but the European football governing body says it would'nt be making any comment.
Don't miss out! Know when next we publish, click on the button below;
You can also subscribe to our newsletter below, we never spam.