Messi Admits Cristiano Ronaldo Stand Out.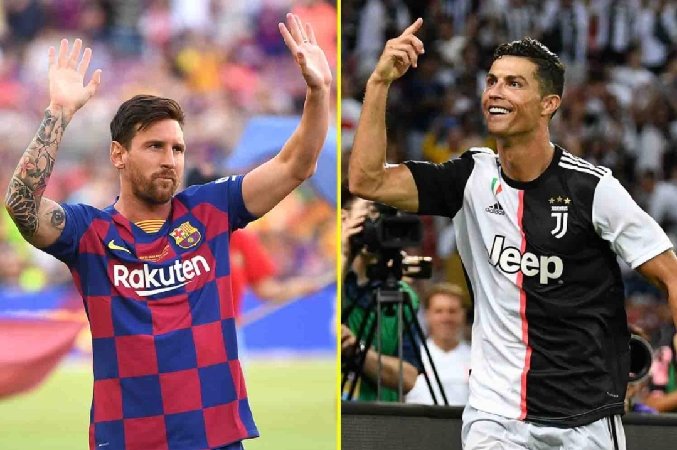 Barcelona and Argentina playmaker, Lionel Messi Admits his long term rival Cristiano Ronaldo has stand out of competition in terms of football.
This came from his recent interview with La Sexta.
The Blaugrana superstar has been at the top of his game in the last 12-13 years and no one has been worthy of comparison to the talented playmaker except his fierce rival, Cristiano Ronaldo.
The two has a combined 11 Ballon d'Or and many achievements to their respective names.
This however create a rivalry between the two, which the both denied putting it at heart.
When asked during their recent meeting in the Champions League, Cristiano Ronaldo admitted he never took his competition with Lionel Messi as a rivalry.
The former Manchester United superstar explained that the fans created the rivalry between them to make the sport more lively and he added that most of the times the rivalries are made up by fans.
Meanwhile his competitor, Lionel Messi agreed to this statement some time ago, the Barcelona forward has always insisted that he is not in any rivalry with Cristiano Ronaldo even though the former has helped him to challenge himself and got the better of himself.
In a recent interview, the Argentine skipper, admitted Cristiano Ronaldo has stand out as a footballar.
Stressing further that he sees Ronaldo alongside other sport superstars in their special craft, likening him to Rafael Nadal, Roger Federer and LeBron James.
"There are many admirable athletes. Rafa Nadal, Federer, LeBron – in all sports there is always someone who stands out and is admirable for his work," Lionel Messi told La Sexta.
"Cristiano stands out in football. There are many who stand out and always do their best." He added.
The Barcelona superstar has also revealed that his children has given him much motivation.
"When I started to be a professional, I managed to put aside my passion as a football supporter," Messi said. "Those who make me get up from the couch are my children. They are what move me the most today."
Lionel Messi has had a good career and is definitely one of the best soccer players, but admitting Cristiano Ronaldo Stands out means there is a reason to it.
Most Ballon d'Or List
The Argentine whole career is spent at Barcelona as of now and even though he tried to push through a deal in the summer of 2020, he will forever remain a legend of the club.
He recently broke Pele's record of the most goals for a single club, with the former scoring 644 earlier at Santos, Lionel Mess is currently the player with the most goals for a professional club side.
And to break his record, one need to score 35 or more goals for 15 seasons at a single club.
Cristiano Ronaldo on the other hand has achieved much success at different leagues and competitions including on International duties, which place him slightly above his long term rival who is yet to achieve any major success with his national team.
Don't miss football updates, Subscribe to our newsletter!
Follow Cristiano Ronaldo on ShootOut Now.