Jadon Sancho is currently the man of the moment in Borrusia Dortmund's locker room, as he scored the only goal that secured Borrusia Dortmund's victory over Borussia Moenchengladbach en route to the semi-finals of the German Cup.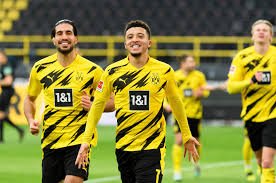 The English man finished off a quick counter attack on Moenchengladbach a few moments after the 60th minute, and placed Dortmund ahead in the match.
Earlier in the game, Erling Haaland had a goal that was disallowed following a VAR review, and Moenchengladbach also had a goal by Marcus Thuramthat was disallowed due to offside.
Following their Victory, Dortmund now marches onto the Semi-final stage of the German Cup, while Moenchengladbach, who have suffered 4 consecutive defeats, have been knocked out of the cup race.
Don't miss out! Know when next we publish;
You can leave us your email below and we will take care of the rest, we don't send spam.