Lady Breaks 60 Years Jinx In ABU Zaria As She Emerged First Female To Bag A First Class In Mathematics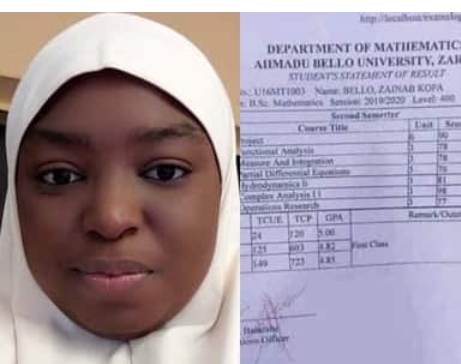 Zainab Bello has broken a jinx of 60 years as she has emerged as the first female student to bag a first-class in the department of Mathematics in Ahmadu Bello University.
This is recorded as a major achievement because since the establishment of the University in 1962 which is the same year the department was established, no female student has ever graduated with a first class.
Article content continues below;
More Articles
Now 60 years since the establishment, Zainab has broken the record with an amazing 4.85 CGPA which has never been done.
It seems the female genius is used to having exemplary results. In a Facebook post made by Mohammed Ali, Zainab has always been the best right from her days in nursery, primary and secondary.
The post said "Meet Zainab Bello the overall best graduate graduating with 1st class (CGPA 4.85 in the Dept of Mathematics ABU Zaria & the 1st female ever to graduate with such grade. She's been the best student since her nursery & guess what? She was Hafiza (Memorized The Glorious Qur'an at 11 years), Congratulation may Almighty Allah bless your certificate."
Don't miss out! Know when next we publish, click on the button below;
You can also subscribe to our newsletter below, we never spam.