Newly promoted English football club Leeds, have secured their first Premier League win in 16 years as they defeat Fulham in an entertaining contest.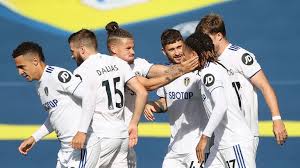 Leeds were initially in control of the game after Costa scored their fourth goal in the 57th minute of the game, however, Fulham continued to struggle and managed to score two goals in the 62nd 67th minute.
Both teams had chances to add more goals to the tally in the closing minutes of the match but failed to do so until the final whistle sounded and Leeds claimed all 3 points.
Leeds have moved up to ninth with their win while Fulham who were defeated by Arsenal in their opening match, remain without a victory or point and rank 19th on the table above West Brom on goal difference.