Jurgen Klopp says he "could not be prouder" of his Liverpool team after they defeated Chelsea to win the FA Cup.
Liverpool was forced to win by penalties after engaging Chelsea in an intense but goalless 120 minutes.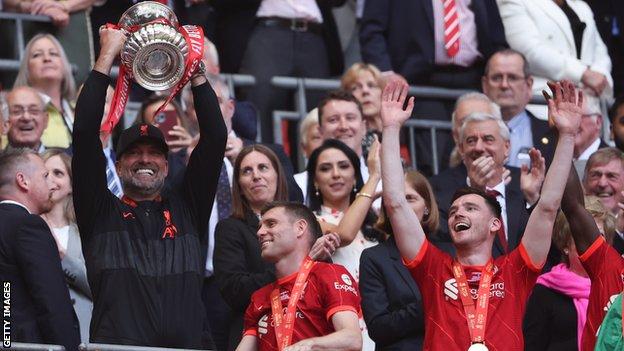 Speaking with BBC in a post-match interview, a victorious Klopp said "I couldn't be more proud of my boys, the shift they put in, how hard they fought."
"Chelsea played outstanding but in the end there must be one winner and that was us today."
"It was an incredible game, a nerve-wracking shootout, my nails are gone."
"It was intense – Chelsea would have deserved it exactly the same way we did, just like in the Carabao Cup – that's how small the margins are," added Klopp.
Speaking further, Klopp said "the quadruple thing is absolutely outstanding that we can talk about it. It's crazy, it's out of this world – this was game number 60 in an intense season."
Liverpool's hope of a having quadruple season has been rekindled with their win over Chelsea. However, it won't be an easy ride as the reds currently trail Man City with a 3 points deficit in the Premier League.
Liverpool would also have to defeat Real Madrid to win the Champions League as they won the FA Cup, and that is a fixture that could go either way as both teams are in top form.
Don't miss out! Know when next we publish, click on the button below;
You can also subscribe to our newsletter below, we never spam.