Nigerian Lady Celebrates Graduating With A First Class In Law From Cambridge Despite Initial Failure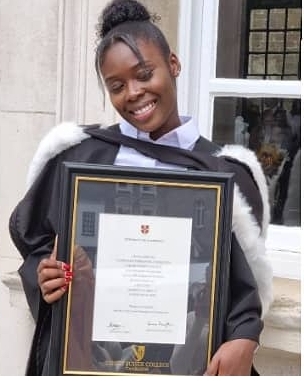 Nigerian lady, Oyin Olukotun, graduates with a first class degree in law from Cambridge University.
Her story of her achieved this great feat has received a lot of reactions from people who are inspired by her relentless attitude.
Three years ago, Oyin had written the entrance exam into Cambridge for law but unfortunately had 'missed her grades'.
While some people would have given up, this young lady continued to try her hardest, choosing not to make mockery of her dream and it paid.
The beautiful lady graduated from the university with a first class.
During the course of her study, she said she'd experienced imposter syndrome (doubting your abilities and feeling like a fraud).
But she fought through it and emerged in the top 15% of her cohort. "I have achieved what my 16 year old self could only dream of and am extremely proud of my achievement." she wrote.