UFC's Lightweight King Khabi  NURMAGOMEDOV, has won his 29th and final fight, as the emotional Victor announced his retirement after he was declared winner of the fight against Justin Gaethje.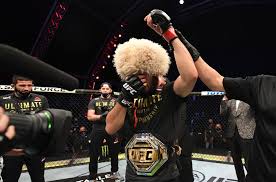 Khabib who lost his father and influencer Abdulmanap to Coronavirus, was in tears after being declared winner, and then proceeded to announce his retirement.
"Today, I want to say this is my last fight. When UFC called me about Justin, I spoke with my mother and I said I wouldn't fight without father."
"And if I give my word, then I must follow it. UFC must make me No1 pound for pound fighter in the world, because I deserve it.
"I want to say thank you to Lorenzo and Dana. All this UFC team, everybody, they made a great show."
While Gaethje did put up an impressive challenge, Khabib seemed to be the better man from the early stages of the fight as he put a lot of pressure on his challenger who barely survived the first round.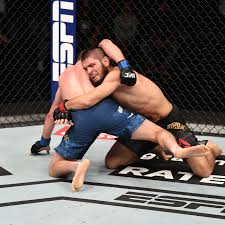 Khabib won the fight in the second round by forcing Justin Gaethje into submission after he executed a triangle choke.
However the undefeated champion was nothing but respectful towards his defeated opponent as he thanked him saying "Thank you to Justin, thank you brother. I know how you take care of your people. One day something will happen for you, you never know what is going to happen tomorrow."
The Russian Champion retires after going through the entire lightweight division which a total of 29 fights, all of which he won.
Khabib said he was retiring as he doesn't want to fight without his father, who coached and mentored him from the age of 8.