Lionel Messi Net Worth, Awards & Career
Lionel Messi net worth
Last Updated on: 14th, January 2022
---
---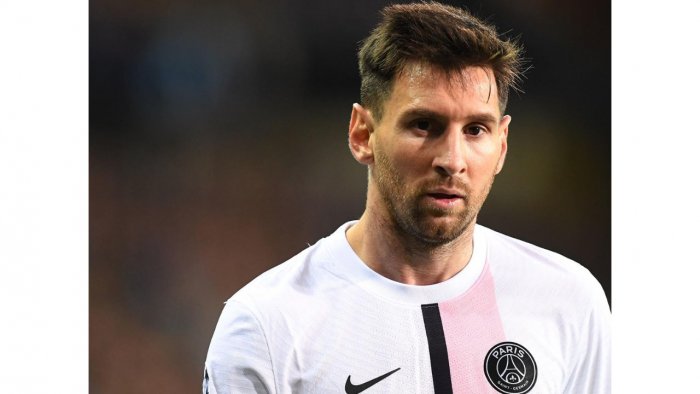 #30: Lionel Messi
SOCCER, Athlete
Nationality: ARGENTINA
Current Club: PSG
* Net worth: $400 Million
* Age: 34 years old
* Children: 3
---
BIOGRAPHY
---
Lionel Messi net worth
Birth Name: Lionel Messi
Age: 34 years old
Net-worth: $400 million
Marital Status: Married
Date of Birth: 24 June 1987
Children: 3
Spouse: Antonella Roccuzzo
Agent: Jorge Horacio Messi
Sponsors: Adidas, Gatorade, Huawei, Mastercard, Pepsi
---
Lionel Andrés Messi is an Argentine international footballer, who is regarded by millions of football lovers around the world as the Greatest Of All Time (The Goat). He is currently playing Paris Saint Germain.
Lionel Messi net worth
---
Messi has won the Ballon d'Or award 7 times, the European Golden Boots 6 times, 10 La Liga titles, 4 Champions League titles, and 7 Copa del Reys. Messi is well known for his outstanding skills and abilities on the pitch as a striker/playmaker, with over 700 goals to his name for club and country, Messi has very few footballers 'dead or alive' who can be compared to him.
---
Lionel Messi was born in Rosario, Argentina on the 24th of June 1987 into the family of Jorge Messi and Celia Cuccittini, he developed a passion for football very early and by age 4, he was registered with a domestic club called 'Grandoli' where he was coached by his father Jorge. However Messi's grandmother Celia is said to be his first major influencer as she accompanied him to his training and matches, she, however, passed on after his 11th birthday and since then Messi Celebrates every goal as a tribute to her by 'pointing to the sky.
---
Messi's chances of playing football professionally were threatened when at the age of 10, he was diagnosed with 'growth hormone deficiency' which his father's health insurance could only cover for 2 years. Treatment for this ailment as at then was treated at a minimum of $1000 a month and even Argentine club River Plate who were actively scouting him, could not afford to pay for the treatment due to the country's economic problems.
---
Lionel Messi net worth
This Challenges forced the Messi family to arrange a trial with Spanish club Barcelona in 2000 and while the then-team director Charly Rexach wanted to sign him, the club's board hesitated because European clubs were not so open to signing Foreign players who were that young. However, the family on the 14th of December gave Barça an Ultimatum to show their commitment, which left Rexach with no other option but to offer Lionel Messi a contract, which he had to write on a Napkin as he had no paper on him at that moment.
---
Following the contract, the family had to leave Argentina for Spain-even though his mother, brother, and younger sister later returned to Argentina on the 1st of February 2001, when Messi was just 13 years old.
---
October 17, 2004, Messi made his debut appearance for Barça at age 17 and he spent the next 3 years establishing himself as a valuable asset for the club, which led to him having his first uninterrupted football season in 2008/09 where he assisted the Catalonians to win their first treble in Spanish competitions and also won his first-ever Ballon d'Or. Messi maintained his success in the football world for the following 3 seasons and his efforts were crowned with 3 consecutive Ballon d'Or titles, making him the first player ever to win the award 4 consecutive times.
---
In the 2011/12 season, Messi proved to be a goal-scoring machine, as he set a new record for highest goals in Barcelona, Laliga, and Europe as a whole.
---
However, Messi's biggest rival Cristiano Ronaldo, stole the shine from him as he won the next 2 Ballon d'Or awards, forcing Messi to rejuvenate himself and find his top form in the 2014/15 season when he set another record as the highest goal scorer in Laliga and fired Barcelona to a glorious second treble, after which he was rightfully awarded his 5th Ballon d'Or.
---
On the National side, Messi is currently the highest goal scorer of all time for Argentina, in the youth division, he won the FIFA World Youth Championship in 2005- he also won the Golden Ball and Golden Shoe- before winning a gold medal at the 2008 summer Olympic games.
---
Argentine legend Diego Maradona, who has called Messi his successor, has constantly been compared to the 33-year-old as they are both Left-footed dribblers.
---
Following his Senior team debut in August 2005, Messi set the record of being the youngest Argentine to play and score in the 2006 FIFA World Cup, and made it to the finals of 2007 Copa América where he was named 'Young Player Of The Tournament'.
---
Lionel Messi net worth
However, after leading Argentina to 3 unsuccessful Finals ( 2014 FIFA World Cup, 2015 & 2016 Copa América), Messi announced his retirement from international duty but later changed his decision and once again Led his National team to qualify for the 2018 FIFA World Cup and finished 3rd at the 2019 Copa América.
---
Messi is without doubt one of the richest and most famous athletes in the world. He is one of the leading ambassadors for his sponsor Adidas since 2006 and was named the world's highest-paid athlete by Forbes in 2019. In February 2020 he was awarded the Laureus World Sportsman of the Year, making him the first-ever footballer and team sport athlete to win the award.
---
However, Messi was recently engaged in a legal battle with Barcelona after he demanded to be released from the club based on a clause he claims was included in his contract which allows him to leave even if he was yet to play out the contract duration. He has however settled with the club and is currently playing out the final period of his contract after which he might depart the Spanish club or sign a new contract and remain at Camp Nou.
---
---
Facts About Lionel Messi
---
What is Lionel Messi's Religion?
Lionel Messi is a Christian.
What is Lionel Messi's stronger foot?
Lionel Messi is a left-footed player but the magician is deadly with both feet.
Where Is Lionel Messi Playing Now?
Lionel Messi is currently playing for the French side, Paris Saint Germain.
When will Lionel Messi's Contract end?
Lionel Messi's Paris Saint Germain contract will end in June 2023.
What is Lionel Messi's Net-worth?
The Argentine international is worth $400m US Dollars in 2022.
What Language did Lionel Messi Speak?
Lionel Messi speaks Spanish, English, and Catalan.
Who is Lionel Messi's Wife?
Antonella Roccuzzo
What are the names of Lionel Messi's Children?
Thiago Messi
Mateo Messi
Ciro Messi Roccuzzo
---