"We can start to put the champagne in the fridge – not to open yet, but to think about it," says Pep Guardiola, as his Manchester City team defeated Crystal palace today and are now 11 points ahead of United in the premier league title race.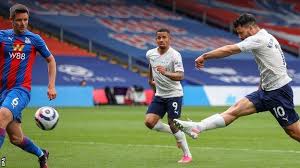 Following a tough battle with a stubborn Crystal Palace team, City gained control of the game in the 57th minute when Sergio Aguero scored with a fine finish, City then doubled their lead 83 seconds later as Torres added his name to the scoresheet in the 59th minute.
With their latest victory in the league, City could very well lift their 3rd premier league trophy in 4 seasons on Sunday, if Manchester United loses their match against Liverpool.
With their loss to City, Crystal Palace's stubborn attempt to go higher on the league table has ended in failure, as they remain 13th on the league table, and while the team led by Roy Hodgson had some chances in the first half, they squandered them and eventually succumbed to City.
Don't miss out! Know when next we publish, click on a button below;
You can leave us your email below and we will take care of the rest, we don't send spam.