In a heartwarming story of love and acceptance, a beautiful woman has turned down a wealthy suitor and chosen an unexpected partner.
Poly Mukami was in a relationship with a wealthy man when she first met John Masharia, a physically challenged man with no arms.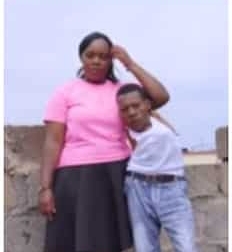 Also Read:
"Shocking revelation: Couple Discovers They Are Siblings After 10 Years Of Marriage.
Despite the societal pressure to stay with her wealthy boyfriend, Poly says it was love at first sight when she met John.
"The first time I saw him, it was love at first sight. I was surprised. I couldn't believe someone could use his feet to do certain activities like drinking tea. I approached him to know how he does that. We had a little chat which ended up by exchanging contacts. I was super impressed by his confidence," Poly said.
Article content continues below;
More Articles
John also shared his perspective on their relationship, saying that he never asked Poly to get into a "normal" relationship with him.
"I have never asked her to get into a normal relationship. I told her straight what I wanted. I proposed to her and she was willing to listen to me unlike all other girls who would not give me a chance," he said.
Despite the initial skepticism from her friends and family, Poly says she doesn't regret her decision to choose John over her wealthy boyfriend.
"Even when we don't have money to buy food or pay rent, she always motivates me and reminds me that we are in this together. She made a lot of sacrifices for me and I am grateful to her," John said.
We are committed to helping you with your research and making sure you are updated with the latest information, so leave us your email below to be the first to know when shit happens.
Subscribe to the latest information on Son Media!