Real Madrid's defence maestro Sergio Ramos, has been left out of Luis Enrique's final Euro 2020 squad for the Spanish National Team.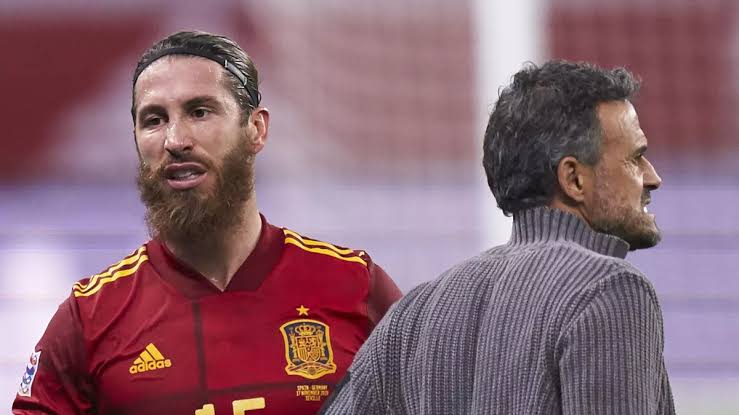 Ramos, a 35 year old centre-back has not recently been in his best form due to an injury, and has only featured in one match for Madrid since March ending. His absence from the Spanish squad means that no player from Real Madrid made Enrique's team for this delayed edition of the Euro cup.
In place of Ramos, Manchester City's defender Aymeric Laporte, who recently had his nationality switch from France to Spain approved, would feature on the 24-man team. Other players from the English Premier League include Brighton keeper Robert Sanchez, Leeds United defender Diego Llorente and Wolves forward Adama Traore.
Explaining his decision to forgo Ramos who has been a key figure in the spanish team for some time, Enrique said "It was a very difficult decision but he [Ramos] has not been able to play this season and has hardly trained since January, I called him yesterday [Sunday] – it was hard, difficult.
"I feel bad, because he is very professional and he helps the national team a lot. And he can still help it in the future. But I have to look for the best for the squad."
Ramos, on the other hand expressed his disappointment and support for the spanish team via a social media post saying  "it hurt", but he wishes the team -that has been placed in Group E along with Poland, Slovakia and Sweden- a "great" tournament and he would be "cheering on from home".
Article content continues below;
More Articles
"I have fought and worked every day, in body and soul, to be able to reach 100% for Real Madrid and the national team but things don't always work out the way we'd like," said Ramos in his post.
"It pains me not to have been able to help my team more and not to play for Spain but, in this case, the best thing to do is rest, fully recover and come back next year like we've always done."
Don't miss out! Know when next we publish, click on a button below;
You can also subscribe to our newsletter below, we never spam.